Hillsborough inquests: Ambulanceman 'forced to play God'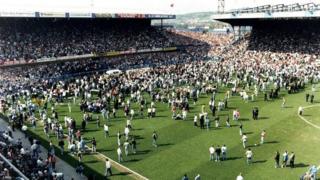 A former ambulanceman has told the Hillsborough inquests the situation was so bad he had to "play God" in deciding who to treat.
Andrew Lawson described the "complete chaos" on the pitch after the crush.
The coroners' court in Warrington also heard he left the ambulance service after telling bosses they got it "completely wrong" at the 1989 tragedy.
Mr Lawson said it became "pretty clear that any concerns [he] had were not appreciated" by his superiors.
Ninety-six fans died as a result of the disaster at the FA Cup semi-final between Liverpool and Nottingham Forest at Sheffield Wednesday's Hillsborough stadium.
'Complete chaos'
Mr Lawson was working in his second job as a waiter at the stadium on the day of the 15 April 1989 disaster.
He told the jury he went on to the pitch when he saw fans climbing over the fence at the Leppings Lane terrace.
"There were bodies all over the place, and people helping, people staggering, it was just complete chaos," he said.
Mr Lawson recalled how he gave CPR to a man who was lying on the pitch for about three or four minutes.
When there was no response, he said he moved on to another patient.
He said: "I'd never been in anything like that before and I've never been in anything like that since, it was like you'd got to choose to play God, and that's not very pleasant.
"There were people all around you who needed assistance and what do you do? You're supposed to never give up on anybody but when somebody... I'm not saying any more."
Resuscitation
Mr Lawson said he treated several people, and also called ambulance control from the stadium to declare a major incident.
He was questioned about a 13-year-old boy he treated, who initially appeared to be dead.
The court was shown a photo of him and the jury heard Mr Lawson carried out chest compressions while a female St John volunteer carried out mouth-to-mouth resuscitation.
Mr Lawson said: "I honestly believed that the lad was dead before we got him breathing again."
Judy Khan QC, on behalf of 11 of the Hillsborough families, said: "You were able, with your intervention, in about a minute and 20 seconds, a minute and a half or thereabouts, you were able to save that young lad's life, weren't you?"
Mr Lawson said: "I think so, but I have no idea in truth."
He said he saw no command or control from the police or ambulance service until at least 15:30 when he made a phone call to ambulance control.
A section of his statement was read out in court. It read: "When I was dealing with casualties at the stadium itself, I saw no co-ordination and no arrangements for triage or prioritisation."
Ms Khan said: "Even with that lack of coordination, you, as an individual, were able to save the life of one young lad. That's right, isn't it?"
Mr Lawson replied: "I don't know, but there was a lot of people trying."
---
Who were the 96 victims?
BBC News: Profiles of all those who died
---
On the Monday following the disaster, he said he expressed his concerns to his bosses about the ambulance service's response.
He said he told his station officer there had been no control and he thought the organisation had got it "completely wrong".
When asked how that comment had been received, Mr Lawson said he had been told he "didn't know enough to know that it was wrong or right" and that "he was just a part-time ambulanceman that trundled people to and from hospital."
Jenni Richards, on behalf of the ambulance service, asked Mr Lawson about that conversation.
He said he did not have any evidence to suggest the station officer, identified as Doug Marshall, was speaking on behalf of the ambulance service.
The court also heard a statement taken from Mr Marshall in December 2014, which read: "I have been asked if I recall hearing members of my shift at Middlewood Station criticising the actions of South Yorkshire Metropolitan Ambulance Service management at Hillsborough on the day of the disaster.
"I do not recall such a conversation. I also do not remember calling anyone into my office to discuss such criticism."
Mr Marshall also said he did not recall talking to Mr Lawson about Hillsborough.
When questioned about this, Mr Lawson said: "He (Marshall) didn't have anything to do with statement taking, but on the Monday morning we had that conversation."
Mr Lawson left the service soon afterwards.
He said: "It was made to be known, I shouldn't have been there on the day, I shouldn't have got involved, I should have stayed well away."
The hearings, in Warrington, Cheshire, will resume on Thursday.