Welsh Streets: Eric Pickles steps in to save 'Beatles heritage'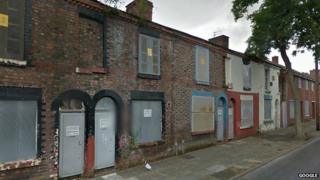 Plans to transform Liverpool's Welsh Streets area have been blocked by Eric Pickles in a bid to preserve its "Beatles heritage".
A proposal to knock down 271 terraced houses in Toxteth and replace them with 154 new homes was recommended after a public inquiry.
But the communities secretary said the plans were "short sighted" because the site includes Ringo Starr's birthplace.
Mayor Joe Anderson said it was a "kick in the teeth" for local residents.
Under the plans, the Beatles' drummer's former home at 9 Madryn Street was due to be refurbished along with 36 other properties.
A letter giving the reasons for Mr Pickles' decision said "the demolition of much of Madryn Street will significantly harm the ability to understand and appreciate this part of Liverpool's Beatles heritage which he considers to be of importance to the city".
Other reasons given include:
the wider heritage value of the Welsh Streets area
the impact on nearby listed buildings and a conservation area
design issues including local character, history and distinctiveness
national policy on bringing back empty homes into residential use
He added the proposals would be "short sighted as regards the future tourism potential of Madryn Street".
'Damp and cold'
Mayor Anderson said it was "yet another kick in the teeth for the long-suffering residents of the Welsh Streets who have been waiting more than a decade for new homes".
He said it was "unacceptable, dishonourable and completely perverse for Eric Pickles to continue to ignore local leadership, local people, and then hold and pay for an independent public inquiry using taxpayers' money, which he then ignores for naked political posturing".
"Yet again, this government talks about localism but then interferes in the wishes of local people. It is absolutely appalling and smacks of the very worst type of political interference from Whitehall."
Mr Anderson added redevelopment plans were "supported by the vast majority of local people".
In a statement, the Welsh Streets Home Group residents' organisation said Mr Pickles' decision was "shocking news".
It called on authorities to immediately resolve the problem "to end our 11-year purgatory".
"Our biggest worries are the continuing community stress, and the antagonism between Liverpool City Council and central government that this decision creates."
Assistant Mayor Ann O'Byrne said: "Some people have been living in damp, cold conditions for far too long and it is having a major impact on their health.
"This decision is absolutely nonsensical and heartbreaking, but we are committed to finding a way forward."
The plan to demolish many of the area's terraced houses has long been subject to controversy, with critics claiming councillors have not explored all options.
The Save Britain's Heritage group said the Victorian houses were a fundamental part of Liverpool's history and should be revamped instead.
The Welsh Streets scheme - part of a wider redevelopment of the Princes Park neighbourhood - was approved by Liverpool City Council's planning committee in August 2013 but was called in for public inquiry by Mr Pickles after objections from heritage campaigners.
The Toxteth area received its name as the streets were built and lived in by Welsh workers in the late 19th Century, and are named after Welsh towns, villages and valleys.