Hillsborough inquests: Special ambulance arrival delay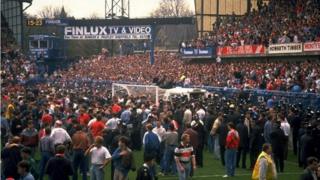 An ambulance specifically designed for use in disasters did not arrive at Hillsborough until almost an hour after the crush started, the inquests heard.
The ambulance service's major incident vehicle, known as MAJAX, carried important medical equipment and could be used as a communications hub.
MAJAX was not deployed until 15:30 and arrived at 15:55 - 42 minutes after a major incident was declared.
Ninety-six fans died following a crush at the 1989 FA Cup semi-final.
'Limbo land'
The court heard the ambulance control room received a call from police at 15:08, asking for a "fleet of ambulances".
---
Who were the 96 victims?
BBC News: Profiles of all those who died
---
A minute later the operator said: "You could have 100 injured."
But the code words required for declaring a major incident - "catastrophe" or "major incident" - were not used and it was not until 15:13 the control centre took the decision to declare, the jury heard.
Stuart Machin, who worked in the ambulance service control room, said that was because he was trying to contact his own officers at the stadium.
"We'd got two officers at the ground who had not reported anything - we were in limbo land.
"We'd got the police on one side asking for a fleet of ambulances, and the two officers at the ground who were on the scene not saying anything," he said.
'Too late'
Christina Lambert QC, counsel for the coroner, suggested that as the major incident was declared at 15:13, MAJAX should have arrived "about no later than half past three".
Mr Machin said that was correct and MAJAX was not deployed until 15:30.
He also agreed hospitals should have been notified by the ambulance service there were mass casualties and possibly fatalities.
And he accepted a mobile medical team from the Royal Hallamshire Hospital in Sheffield should also have arrived at the ground sooner.
Records showed that team arrived at 15:53.
Mr Machin said: "I would say that it's a little too late."
The hearings, held in Warrington, are due to resume on Monday.