Ex-Liverpool star Robbie Fowler to open football and education academy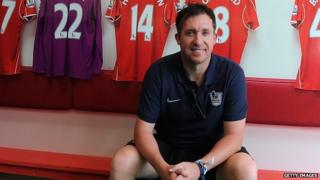 Former Liverpool and England striker Robbie Fowler is to open a college to provide students with "a great academic and football education".
The Fowler Education and Football Academy (Fefa) will take further education students aged from 16 to 19.
They will be coached to Premier League standards and also get qualifications in entrepreneurship, coaching, personal training and lifeguarding.
The academy, catering for 60 students, will open on Merseyside later in 2015.
Fowler said the football and sports science course would be "fantastic".
The 39-year-old, who also played for Leeds United and Manchester City in the Premier League, said the idea was to "inspire students to achieve their best".
---
From schoolboy to superstar
Having joined Liverpool as a schoolboy, Fowler went on to become the club's fifth highest scorer of all time, netting 183 goals in 369 games across two spells with the Reds
He hit the headlines when he scored five goals against Fulham in the League Cup in 1993, an achievement made even more impressive by the fact it came only 13 days after his Liverpool debut
He also scored the quickest hat-trick in Premier League history, taking only four-and-a-half minutes against Arsenal in 1994
Fowler played 26 times for England, scoring seven goals
Source: Liverpool FC
---
A Fefa spokesman said the academy would be visited by "guest speakers such as top Premier League coaches, sport psychologists, strength and conditioning coaches as well as ex-Liverpool and Everton players".
The academy's principal Brian McGorry, who was an apprentice with Liverpool before having a playing career in the lower leagues, said the course would "dramatically improve our students' academic and football knowledge".
He added: "They will be taught by outstanding teachers and coached by Uefa A-licence coaches and ex-professional footballers."
He said that it would give students a "route into employment and higher education".