Hillsborough inquests: 'Clandestine' police statement pact denied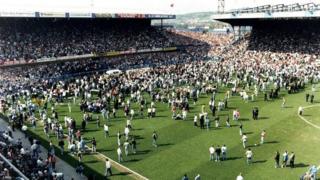 There was no "clandestine" pact by top police officers to avoid giving statements about Hillsborough in the wake of the disaster, a jury has heard.
The inquests were shown a solicitor's note, dated 10 days after the 1989 tragedy, which recommended four senior police officers give no statements until they had received legal advice.
Former Assistant Chief Constable Walter Jackson was one of those named.
He told the court he "didn't make any agreement" with other officers.
Ninety-six fans died following a crush on the Leppings Lane terraces during the FA Cup semi-final between Liverpool and Nottingham Forest at Sheffield Wednesday's stadium on 15 April 1989.
Asked why he had not made a written account on the day of the disaster, Mr Jackson said he had been "clearly shocked" and had "cried about the situation that 95 people were killed".
The 96th victim, Tony Bland, died in March 1993 from injuries sustained in the disaster.
As a result of his experiences at Hillsborough on the day, Mr Jackson said he "didn't feel like sitting down and writing something about it at the time".
The court was shown a solicitor's note, made in relation to a phone call from Ch Supt Terry Wain, dated 25 April 1989.
It said that "with regard to the four officers, [Ch Supt David] Duckenfield, [Supt Roger] Marshall, [Supt Bernard] Murray and Jackson, in any event, none of them are to give any statements whatsoever until they have received legal advice."
The jury heard the note appeared to be a record of a police request.
---
Who were the 96 victims?
BBC News: Profiles of all those who died
---
Asked about any instruction from Ch Supt Wain not to give statements, Mr Jackson said he "can't remember anything like that".
He said there was no pact with match commander Mr Duckenfield, Mr Murray and Mr Marshall about not making statements until later.
"I didn't make any agreement, nor was I involved in any clandestine issue," he said.
"If I had not done something, I would tell the jury and the coroner."
Mr Jackson was also asked about an order that was made for officers not to record the events of the day in their pocketbooks, which another witness - former Det Ch Supt Terence Addis - has previously said came from an officer senior to him.
Mr Jackson, who was one of four officers senior to Mr Addis, said he could not remember the order and did not know what the "rationale was behind that".
Mark George QC, representing 22 of the bereaved families, said it would be difficult to leave out information recorded in a notebook because the pages are numbered.
"But if someone writes an account on blank pieces of paper and somebody decides that they are not very convenient it would be easy to throw them in the dustbin, and no-one would know they existed," he said.
Mr Jackson replied: "I personally don't think anything like that happened."
The inquests, being held in Warrington, are due to resume on Thursday.