Hillsborough inquests: Police chief denies pub debrief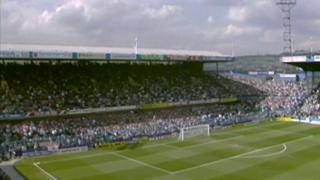 A retired police chief has denied telling officers gathered in a pub to get their "stories straight" in the wake of the Hillsborough disaster.
Ninety-six Liverpool fans died as a result of the 1989 terrace crush.
Ch Supt John Nesbit told the inquests claims by PC David Frost were "a pack of lies" by a "vindictive officer".
Mr Nesbit, who was not on duty at the stadium, told the court the police's handling of the disaster was "chaotic" with a "complete lack of organisation".
Mr Nesbit was questioned about PC Frost's allegations that he took officers to a pub a few days after the 15 April tragedy at the FA Cup semi-final between Liverpool and Nottingham Forest at Sheffield Wednesday's stadium.
Rajiv Menon QC, a barrister for 10 of the bereaved families, read an account from Mr Frost, who said his group of officers were in the White or Red Lion when they were told to get their stories straight.
He told the jury Mr Frost had said the group walked out and that: "I recall a sense of disgust and disbelief.
"For me it was the start of an unpleasant smell surrounding the events of the day which got worse over time."
'Biblical scene'
When questioned about this, Mr Nesbit said: "That is a figment of his imagination."
Jonathan Hough QC, counsel for the coroner, said it was alleged Mr Nesbit said to the group: "Look lads, we need this. It is a normal day in court.
"We have all got to get our stories straight or a lot of senior officers' heads will roll."
Mr Nesbit told the jury: "It is nothing but a pack of lies by one mischievous, vindictive, deceitful officer.
"I was interviewed under caution where it was said that I had a heated discussion, according to Frost, with a number of officers in a public house, not in a police station and that after that conversation the whole of the PSU [Public Support Unit] got up and walked out in disgust.
"That meeting never took place."
Mr Menon read an account by another officer, Adam West, who said officers gathered at a pub called The Crown.
He quoted Mr West: "The scene of us all sat at a long table must have looked like a biblical scene at the last supper."
Of Mr Nesbit he allegedly said: "He was trying to cover his own backside saying where he was at 15:06 on the day to get that story straight as almost a deflection strategy about dealing with a lack of senior officers on the pitch."
Mr Nesbit said the meeting "just never happened."
Mr Menon asked him: "Is there any possibility it is you... who is mistaken, and that you did in fact play an active role in evidence-gathering in the immediate aftermath of the disaster?"
Mr Nesbit replied: "My role never involved that at all."
'Crossed swords'
Pete Weatherby QC, a barrister for 22 of the bereaved families, asked Mr Nesbit if he was involved in trying to deflect blame for the disaster away from South Yorkshire Police's senior command or match commander Ch Supt David Duckenfield.
Mr Nesbit said: "No. If I was going to speak to a group of police officers about that unfortunate day and the circumstances, I would have done it in the police station across the road, not in a public house where members of the public have got free access."
Mr Nesbit said he did not know why Mr Frost had made the allegation, but said they could have "crossed swords" in his former role as a disciplinary superintendent.
The court also heard claims from a third officer, PC Adrian Daley, who said Mr Nesbit tried to persuade him to remove criticism of senior officers in his statement during a meeting at a police station in Rotherham, South Yorkshire.
But Mr Nesbit said he left Rotherham in 1986 and the officer, who he said he had never met, "must be mistaken".
---
Who were the 96 victims?
BBC News: Profiles of all those who died
---
He was also asked about a Police Federation meeting in October 1989 at which Michael Shearsby MP, parliamentary advisor to the Police Federation, was present.
Minutes of the discussion recorded Mr Nesbit as saying: "The fans were trying to barter with the stewards to get in. They did not have tickets and were trying to buy their way in."
Mr Nesbit said he was not near the turnstiles and he was only passing on information.
Mr Weatherby said: "This is part of putting forward a narrative, isn't it, to this MP that he will then raise in parliament?"
Mr Nesbit said he did not recall the meeting.
Earlier, Mr Nesbit described to the court how he headed to the ground at 15:00.
He told the inquests that by the time he got to the Leppings Lane terrace fans were already dead and two bodies were jammed in a gate at the front.
He described the scene as "chaotic" and that there was a "complete lack of organisation" by the police.
Mr Nesbit told the jury police officers were "getting in each other's way".
He said he told his colleagues to form a chain to pass bodies from the terrace to the pitch and he organised messages to be given to fans on loudspeakers.
The inquests, being held in Warrington, are due to resume on Monday.