Cargill faces prosecution after lorry driver buried under animal feed stockpile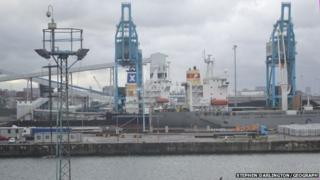 A company is to be prosecuted over the death of a lorry driver who was buried under a stockpile of animal feed.
Malcolm Harrison was working at the Cargill terminal at Liverpool's Seaforth Dock on 6 September 2012 when a mound of soya meal collapsed on him.
The 64-year-old, from Keighley in West Yorkshire, later died in hospital.
Following an investigation into his death, the Health and Safety Executive has brought criminal proceedings against Surrey-based Cargill.
The company is due to appear at South Sefton Magistrates' Court on Thursday for an initial hearing.
Cargill has been charged with breaching Section 3(1) of the Health and Safety at Work Act 1974, which relates to failing to ensure the safety of non-employees.