Nick Clegg praises SAS soldier for charity work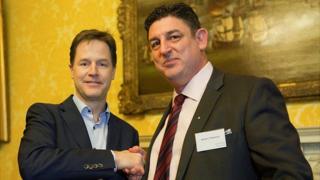 A former Special Forces soldier from Liverpool who suffered post-traumatic stress disorder has won a national award for his charity work.
Robert Paxman served in the SAS and worked in Iraq as a security advisor.
After suffering a near-breakdown in 2006, he set up a charity called Talking2minds, which helps people who have had similar experiences.
Mr Paxman, 47, was presented with a Mental Health Hero award from Deputy Prime Minister Nick Clegg.
Mr Clegg said: "The work he has done to care and support people in their darkest hours makes him a worthy winner and I hope others will follow his example so that together we can bring mental health out of the shadows and make it as important as physical health."
Mr Paxman said: "This is a recognition not only of the massive and growing problem that post-traumatic stress disorder represents, particularly among veterans, but also that Talking2minds is doing its bit to give PTSD sufferers their lives back."
Mr Paxman, who has helped hundreds of people through his charity work, received his award at a reception in Whitehall.