Hillsborough inquests: Steward 'feared gate could collapse'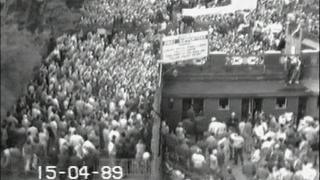 A steward said he asked police to open an exit gate at Hillsborough because he thought it was going to fall on him, inquests into the disaster have heard.
Malcolm Bain said Gate C was moving because of the pressure exerted by supporters gathered outside.
And he recalled how people were crying as they came into the ground because of the severity of the crush outside.
Ninety-six Liverpool fans later died as a result of crushing inside the Leppings Lane terrace on 15 April 1989.
Mr Bain, who had been a steward at Sheffield Wednesday's stadium for 12 years at the time of the disaster at the FA Cup semi-final between Liverpool and Nottingham Forest, described the scene outside the stadium just moments before the tragedy unfolded.
'Children trapped'
The jury heard an extract from a statement he gave in 1989 in which he said he could hear fans shouting for the exit gate to be opened.
It revealed how people were being pushed into the turnstiles and there were "children trapped against the rotating wheel as they were being pushed."
---
Who were the 96 victims?
BBC News: Profiles of all those who died
---
He also said fans were climbing over the wall.
Mr Bain told the court: "I couldn't understand it myself, for grown men to act like they did was ridiculous."
He said there were fans who were crying as they came through to the inner concourse, and that he heard some saying the situation outside the ground was "ridiculous".
"But it wasn't our fault," he said. "We were stood at the back of that gate, and that gate was getting pushed with people from outside.
"I was concerned because if that gate had come down, that would have been on us, because we were at the back of it. I'm not saying it would have come down, but it could have come down."
'Running in'
He told the court he and his colleagues went to ask a policeman to open the gate because it was "swaying" and that an officer got authorisation to open it.
The jury heard that in his original statement Mr Bain made no reference to his request to police, and that he had heard an order being given to open the gate.
Christina Lambert QC, on behalf of the coroner, asked him if his memory might be faulty, but he replied that his recollection was accurate.
He told the court two officers opened the gate, and that fans came "running in".
Asked where they went he replied: "Straight forward, towards the tunnel."
The hearings, sitting in Warrington, Cheshire, are scheduled to continue on Wednesday.