Hillsborough inquests: 'Police ordered' stadium gate opening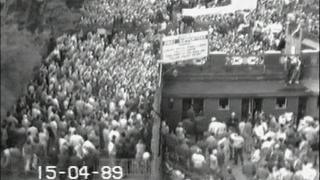 The decision to open an exit gate just minutes before a fatal crush at Hillsborough was taken by police, a former steward has told the inquests.
Ian Marsh said he opened the gate near the Leppings Lane turnstiles, but couldn't remember which officer had ordered him to do so.
Mr Marsh, who was on duty at Gate C, was giving evidence for a second day.
Ninety-six fans died after the crush at the 1989 FA Cup semi-final between Liverpool and Nottingham Forest.
The court heard about 2,000 supporters came through the gate when it was opened at 14:52 GMT - eight minutes before the match kicked off.
Many of them ended up in the central pens on the terrace, where the crush took place.
In his initial statement given in 1989, Mr Marsh claimed a uniformed officer had told him and his colleagues to open the gate, but it was police themselves who had actually opened it.
The court heard he was shown CCTV footage last year appearing to show it was actually him who opened the gate.
'Police decision'
Fiona Barton QC, barrister for the current Chief Constable of South Yorkshire Police, read Mr Marsh's statement to the court.
It said: "It now looks like I personally opened the gate, but I don't remember doing it.
"I can see now that prior to this opening I had no interaction with any police officer before turning to open the gate. I don't know where I got the authority from, but I must have got it from somewhere or I wouldn't have opened it."
The court was shown further CCTV footage of a police officer on the outer side of the exit gate appearing to talk to Mr Marsh through a small window, before one side of the concertina gate was pulled open.
Mark George QC, a barrister for some of the bereaved families, asked: "That is your authorisation isn't it?"
Mr Marsh replied: "Yes".
The footage also showed another police officer pulling open the left side of the gate, allowing a large number of fans into the inner concourse.
Mr George said: "It's pretty clear that it is a police operation, it is the police decision to open this gate?"
"Yes," Mr Marsh said.
The hearings, sitting in Warrington, Cheshire, are due to resume on Thursday.
---
Who were the 96 victims?
BBC News: Profiles of all those who died
---