Mersey tunnels toll pricing task force to be set up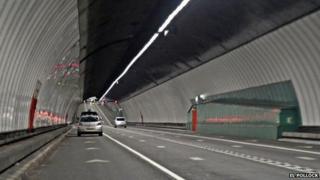 A taskforce will be created to review the setting of fares for the Mersey tunnels.
The Liverpool City Region combined authority also approved Merseytravel's plan to freeze tolls for a year.
Merseytravel said it will work with the Liverpool City Region for the review.
Mersey Travel Users' Association (MTUA) secretary John McGoldrick welcomed the creation of a review panel and said he hoped it leads to the scrapping of the "unfair" tolls.
"The government takes £50bn a year from road users," he said. "It doesn't happen in Scotland or Wales so why should we have to pay a bit more?"
But Merseytravel said: "The tunnels were built as a joint venture by local authorities and as such their upkeep and maintenance remains outside of the national highway network.
"However, there is the benefit that the money raised locally through the tolls is spent locally, unlike road tax and general taxation which goes into a central pot."