Hillsborough inquests: Former FA chief exec told 'gates were forced'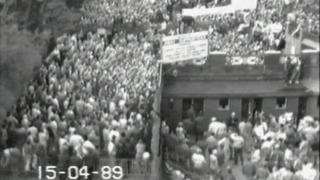 A former FA chief executive was told by Hillsborough match commander Ch Supt David Duckenfield that "a gate or gates had been forced", a jury has been told.
In Graham Kelly's evidence to a public inquiry, he said he was also told there was an "in-rush" of Liverpool fans.
Mr Kelly said Ch Supt Duckenfield told him there had been fatalities and the match was "likely to be called off",
A senior fire officer also told the inquests about a police officer's fears of a "riot" if the match was abandoned.
Alan Hornsby said he overheard a telephone conversation with police and match officials who wanted to stop the FA Cup semi-final between Liverpool and Nottingham Forest.
Ninety-six Liverpool fans were fatally injured in a crush on the Leppings Lane terraces at the stadium in Sheffield on 15 April 1989.
---
Who were the 96 victims?
BBC News: Profiles of all those who died
---
The match was halted by a senior police officer at 15:06 BST.
Mr Kelly said he went to the police control box about 15 minutes later.
He did not appear at the inquests in person but some of his previous evidence given to the Taylor public inquiry into the disaster in 1989 was read to the jury.
Referring to the meeting in the police control box, Mr Kelly's transcript said: "I was told that a gate or gates had been forced and that there had been an in-rush of Liverpool supporters.
"I was told that there had been fatalities, the match was likely to be abandoned."
'Two versions'
Mr Kelly said he was shown an image on a CCTV monitor but he could not make out which gate was being referred to.
The jury has previously heard how an exit gate at the stadium was opened at 14:52 BST on police orders.
About 2,000 fans entered the ground through the gate, with many of them going down a tunnel and into the central pens behind the goal.
The fans who died were all standing in those pens.
Barristers representing bereaved families have described Ch Supt Duckenfield's claim a gate was forced open as a "wicked lie".
The transcript of an interview Mr Kelly gave to Alan Green on BBC Radio 2 was also read to the jury.
Asked at the public inquiry about what he told the media, Mr Kelly said: "I told the media there were two versions of what had happened.
"One was that a gate had been forced and another was that a gate had been opened to let in the Liverpool supporters and I said I didn't know which, if either, was the true version of events, but both were being promulgated at the time I started speaking to the media, which was at about 16:40."
The jury also heard from former Asst Chief Fire Officer Alan Hornsby who gave evidence via video link.
He recalled going into the police control box at about 16:00.
Mr Hornsby did not know who he spoke to inside but had asked for "the senior officer in the control box at that time".
He said while he was inside the box he overheard a telephone conversation between football club officials and the police officers inside.
Mr Hornsby told the jury: "I understood they wanted to call the match off. At that point the officer in charge, the senior officer, said they couldn't do that without the permission of Asst Ch Con Jackson.
"He just panicked. He was frightened there was going to be a riot.
"I think his words were there was going to be a riot. That was his actual words - he wouldn't give permission to send a message at all until he had contacted ACC Jackson."
An announcement the match had been called off was made over the public address system at around 16:10 BST.
The inquests, being held in Warrington, Cheshire continue.