Eleven held in drugs raids linked to three Liverpool clubs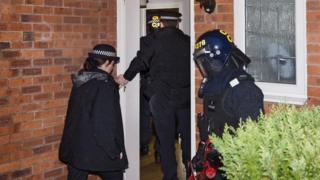 Eleven men have been arrested in a series of raids linked to suspected drug dealing in Liverpool nightclubs.
More than 100 Merseyside Police officers raided 14 properties after class A and class B drugs were found in Garlands, Republik and the Lomax in Liverpool city centre.
Officers found a large quantity of tablets thought to be ecstasy at a house in Fazakerley.
The men aged 18 to 36 are in police custody for questioning.
Lomax in Cumberland Street, Garlands in Eberle Street and Republik on Bold Street have all been closed down over alleged drug dealing concerns.
Supt Mark Wiggins said: "This is phase four of an investigation targeting the supply of Class A and B drugs at a small number of licensed premises in the city centre."
He said violence and "contributory factors such as drugs and excess alcohol" have "caused issues".
"In the last two weeks, three clubs - Garlands, Lomax and Republik - have been closed following the illegal trade of Class A and B drugs on the premises.
"The majority of clubs and pubs in the city centre work closely with our licensing team and manage their venues responsibly," he added.