Hillsborough inquests: Police and ambulance chiefs 'fell out'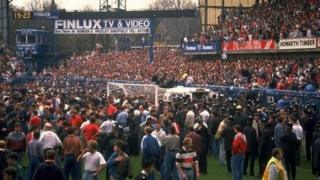 An ambulance boss fell out with the chief of police over Hillsborough because he "refused to sing from the same hymn sheet", the inquests heard.
Ex-South Yorkshire ambulance chief Albert Page agreed he could not work with chief constable Peter Wright.
Police statements blaming "drunken Liverpool fans... didn't tally" with what his officers reported, Mr Page told the Warrington hearings.
Mr Wright had tried to "safeguard the interests of the force", Mr Page said.
While a major incident could have been declared at the ground as the match was kicking off at 15:00, he said the ambulance service's overall response to the disaster had been "excellent".
Ninety-six Liverpool supporters died after crushing at the FA Cup semi-final between Liverpool and Nottingham Forest at Sheffield Wednesday's Hillsborough stadium on 15 April 1989.
Mr Page led South Yorkshire Metropolitan Ambulance Service (SYMAS) at the time.
The jury heard about a meeting he requested with Mr Wright a few days after the disaster.
He said he "liked" Mr Wright and was used to having one-to-ones with him, but at this meeting the chief constable was joined by two colleagues and appeared to be "effectively under a lot of pressure and was trying to safeguard the interests of the force".
The jury heard Mr Page had seen "public statements" made on behalf of the police about the causes of the disaster that "didn't tally" with what his own staff were saying.
One claim was that no fans had died in a tunnel that led to the pens where the tragedy unfolded, but Mr Page said he heard a "different message from ambulance officers".
'Never met again'
Rajiv Menon QC, who represents a group of bereaved families, said Mr Page had also "read reports, quoting police sources, which were effectively blaming the disaster on drunken Liverpool fans".
Mr Page said there had been "the suggestion in the media that they were full of of alcohol".
"My people were saying that there were very, very few people in the fatality stage that had strong smells of alcohol on them."
"[Mr Wright] said at the end of the conversation, 'That's our position, that's our stance... that's what we will have to stand by'.
"I said 'Well, it's pointless continuing with this meeting'. I don't think I ever met him again."
---
Who were the 96 victims?
BBC News: Profiles of all those who died
---
He agreed with Mr Menon's assertion that he "indicted to the chief constable that SYMAS is not prepared to sing from the same hymn sheet as the police".
Responding to questions about how SYMAS performed on the day, Mr Page said the control room should have "equalled out" where casualties were sent.
The jury heard Sheffield's Northern General Hospital became "swamped", while the Royal Hallamshire dealt mostly with "walking wounded".
He was also shown photographs of the Leppings Lane end of the ground at 14:59 BST, where fans could be seen climbing out of pens on the terraces.
He agreed that had he been present, he would have seen what was happening as "a major incident unfolding".
However, he also agreed with Jenni Richards QC, who represents Yorkshire Ambulance Service, that his view of when a major incident should have been called had been reached in the "calm environment" of the courtroom.
Asked about a claim that he told senior colleagues he would take the credit if the operation was deemed a success, but "heads would roll" if it was not, he said it was "absolute rubbish".
He also said "there was no way" another claim that there may have been a cover-up at SYMAS after Hillsborough was true, as "we all wanted to know what happened".
"We were dealing with a very, very serious situation," he said.
The inquest continues on Monday.