Protest over future of children's centres in Liverpool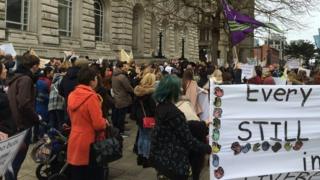 Hundreds of campaigners who want to secure the future of children's centres have held a protest in Liverpool.
Plans to shut 10 Sure Start centres in the city because of government cuts were initially revealed in January.
On Monday Mayor Joe Anderson said £2.4m would be used from council reserves to keep the centres open for two years.
Kim Garthwaite, a co-ordinator at the Vauxhall and Kirkdale centres, said the reprieve was "brilliant" but questioned what would happen when funding ended.
She said: "We want to work with the council and partners in health and education to make sure that children's centres survive in the long term, that they're sustainable and we don't keep coming back year upon year to these threats of cuts which is bad for families and bad for staff morale.
"We feel really strongly that people power works, that it has worked so far, and it can work again.
Labour mayor Mr Anderson, who attended the protest, said: "I feel I'm on their side (the protesters) and I'm supporting them.
"The reality is the service is valuable to them; it's valuable to my grandchildren and people's children in the city."