Kevin Wilson shooting: Nine held in crime crackdown in Liverpool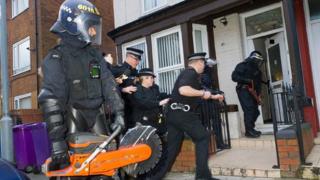 Nine people have been arrested for drug-related offences by police investigating the murder of a teenager in Liverpool.
Officers raided eight properties in Wavertree and Toxteth in a crackdown on gun and gang crime.
Supt Jenny Sims said the raids are "about disrupting criminal activity" and not necessarily connected to the shooting of Kevin Wilson on 7 February.
Officers seized what they believed to be Class A and B drugs.
"We are totally committed to tackling serious and organised crime and will relentlessly pursue those we suspect are involved in it," she added.
Eight adults and a juvenile have been arrested for a variety of drug-related offences.
Up to 120 officers will also carry out searches on playing fields which will also involve an underwater team in Princes Park.
Kevin Wilson, originally from Lanarkshire, Scotland, died after being shot in the back in what police said was a "targeted attack".