St Helens and Halton councils announce 2% tax increases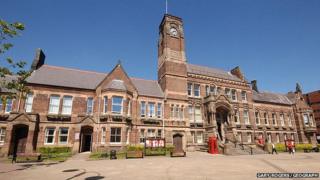 Council tax will rise by 2% in both St Helens and Halton after councillors approved their budgets for the next financial year.
Central government funding for them will fall by £13.8m and £11m for St Helens and Halton respectively.
Knowsley Council said it would freeze council tax but lose 120 jobs when it introduces the living wage for 700 low-paid council workers in October.
It says it will face government cuts of £31m in the next two years.
A spokesperson for the local authority said that while some services would be cut, extra support for Knowsley food bank would be provided, along with "significant investment" in social care.
St Helens councillor Jeff Fletcher said: "Over the last four years, we've lost £65m in central government grant - that's a 53% cut. It's £13.8m this year and yet all the time they're asking us to do more."
The council said it was also dealing with increasing demands for children and adult care services.
Councillor Barrie Grunewald said the authority had lost 1,600 jobs in recent years and was "running out of options other than to reduce services".
Liverpool City Council recently approved £1m in cuts to its funding for 58 community charities.