Wirral University Hospital Trust's finances re-examined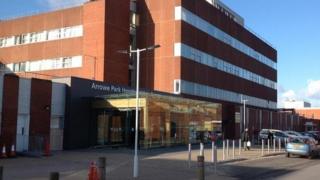 A Merseyside hospital trust's finances are being reinvestigated by health regulators.
Wirral University Hospital NHS Trust, which runs Arrowe Park Hospital, is currently forecasting a deficit of up to £5.5m for the year.
Monitor said it would find out why the trust's financial position continues to be worse than planned.
Birkenhead MP Frank Field said: "If the trust was a private company it would have been wound up long ago."
'Significant pressures'
A previous study by Monitor, which concluded in March last year, found the trust had been taking steps to improve its financial position.
But because its financial position has not improved as swiftly as hoped, it is being investigated again.
The trust said it has had "significant operational and financial pressures".
Chief executive David Allison said: "We are making improvement towards achieving long-term financial stability and we are working hard to increase the pace of this progress.
"However, we remain determined to sustain an excellent service for our patients and our public, with safe, quality care at its core."
Monitor's regional director Paul Chandler echoed this, saying it had no concerns about the quality or safety of care.
He also added the trust has a "fairly sizeable cash balance" so was "not imminently going to run out of money".
Mr Chandler said: "We just need to make sure the trust is in a position to continue to deliver high quality services to patients both now and in the future."
But Labour MP Mr Field said: " I am writing to the Health Secretary... asking him now to act and institute a comprehensive inquiry into the malfunctioning of health services that affect my constituents."
The Wirral trust is one of four foundation trusts in England being probed by Monitor.