Hillsborough inquests: 'Aggressive' fans made some stewards leave their post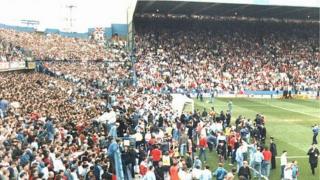 Some stewards left their posts at Hillsborough because of "aggressive" Liverpool supporters, a former police officer has told the inquests.
Paul Burman, a sergeant at the time of the 1989 disaster, said he feared for his safety in the ground's West Stand.
He said Liverpool fans were the "worst" he had policed.
Mr Burman was accused of being "more concerned about himself" than the casualties from the disaster.
Ninety-six Liverpool fans were fatally injured at the FA Cup semi-final between Liverpool and Nottingham Forest on 15 April 1989.
Mr Burman told the court that he spoke to a head steward at the ground as the disaster was unfolding.
"He said that all the stewards in the West Stand had gone because of the aggressiveness shown to them by those in the West Stand," he said.
He added that he told two constables to "stay with me" because "I feared for all three of us - I feared for our safety".
---
Who were the 96 victims?
BBC News: Profiles of all those who died
---
The court heard how, in a statement made in 1989, Mr Burman said, in his view, "this tragedy was caused by the unruly and idiotic behaviour of the Liverpool fans themselves".
Rajiv Menon QC, who represents the bereaved families, asked him what he based that on.
He replied: "The three or four [fans] that were swearing and gesticulating" as well as two fans he saw jumping on a crush barrier.
Mr Menon asked: "You think those three or four people who were swearing and the two people who were on the barrier are responsible for the deaths of 96 fans?"
Mr Burman replied: "No."
In the statement, Mr Burman added: "In general terms the behaviour of the Liverpool fans when events of the tragedy initially became apparent was nothing less than appalling."
Asked what that was based on, Mr Burman said: "The way we were spoke at, the way we were sworn at, the way we were jostled and pushed. I've never seen behaviour like that at a football match."
Mr Menon said that was a "total mischaracterisation" of the fans' behaviour.
Mr Burman said: "I've worked matches before and this might sound controversial, but the Liverpool fans are the worst I've had to police.
"If you had asked me the question 'Who do you consider to be the worst football fans?' unequivocally I would say Liverpool."
The jury heard that despite having some first aid training, Mr Burman did not go on to the pitch to help casualties.
He said there were "plenty of police officers down on the pitchside" and that he had "limited first aid".
Mr Menon asked: "The sad reality is that you were more concerned about yourself that day than you were about those who tragically died or were injured as a result of this disaster. That's the bottom line, isn't it Mr Burman?"
Mr Burman replied: "I resent that comment, sir. I do resent that.
'Grossly overcrowded'
"I was a police officer, and from day one to the day I retired, protection of life and property was the number one role."
Mr Burman told the inquests he believed pen three of the Leppings Lane terraces was "sensibly full" at 14:00, an hour before kick-off.
According to an independent expert "as many as 700 or 800" additional fans went into pen three between 14:52 and 15:03.
Mr Burman said he was "astounded" to hear that because "I wouldn't have thought that were possible".
He accepted that it was "common sense" that if the pens were full "somebody should have ensured that no further fans entered" them.
The court heard that Mr Burman told a public inquiry in 1989 that "people chose to be where they wanted to be" in the stadium.
After reading that extract from his previous evidence, Mr Menon said: "These were grossly overcrowded pens. Amongst the deceased, there's a 10-year-old, five 14-year-olds, five 15-year-olds and three 16-year-olds.
"How are these children being squashed to death in these central pens supposed to conveniently escape to one of the side pens?"
Mr Burman said: "I don't know, sir."
The inquests, sitting in Warrington, Cheshire are due to resume on Monday.