Southport: Collapsed sewer causes large hole in road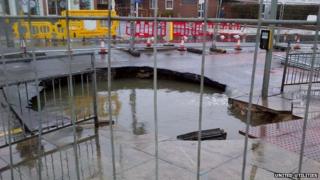 A busy road junction could be closed "for several weeks" after a large hole appeared following a sewer collapse.
United Utilities said the hole appeared overnight at the junction of the A565 Cambridge Road and Preston New Road in Southport, Merseyside.
Tankers are being used to pump out the water, which is "struggling to flow through the collapsed pipe".
Wastewater network manager Nicola Williams said recent heavy rain "is making our job extremely difficult".
"We will not be able to assess the damage or begin to plan repairs until the rain subsides and we can get a proper look at what has happened," she added.