Hillsborough inquests: Father receives police chief apology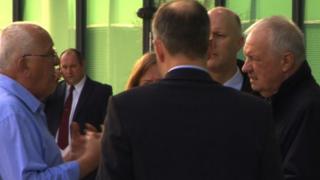 A bereaved father who lost his son in the Hillsborough disaster has received a personal apology from the police match commander David Duckenfield.
Barry Devonside's son Chris was 18 when he was fatally injured along with 95 other Liverpool fans in the 1989 crush.
Mr Devonside confronted Mr Duckenfield as he left the coroner's court to ask him why it had taken him so long to say sorry for his role in the disaster.
"He apologised to me and said, 'I can't say any more'," Mr Devonshire said.
Former Ch Supt Duckenfield was in charge at the Sheffield stadium for the FA Cup semi-final between Liverpool and Nottingham Forest on 15 April 1989.
He has just finished giving seven days of evidence at the new inquests in Warrington, Cheshire.
Mr Devonside said he approached Mr Duckenfield outside the court and said: "Could you tell me why you kept me, my wife and my daughter waiting for 26 years - and all of the other families as well?
"I looked him in the eye and he looked me in the eye. He apologised to me and said, 'I can't say any more' and walked off.
"I think he was trying to be genuine, but it was short and sweet, what he had to say, so it was very hard to decipher what was behind it."
Chris Devonside was a student from Formby, Merseyside, who drove to the match with his father and some friends, who all survived.
On Thursday Mr Duckenfield told the inquests his failure to close a tunnel into the Hillsborough stadium "was the direct cause of the deaths of 96 people".