Slab thrown from Southport bridge smashes train window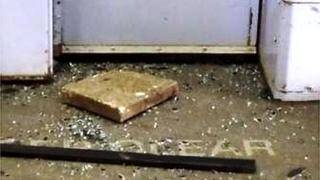 A train driver narrowly avoided serious injury when a concrete slab thrown from a footbridge smashed through his cabin window.
The incident happened near Meols Cop railway station in Southport, Merseyside, on Wednesday evening.
British Transport Police said a large man wearing a black beanie hat was seen to throw the slab.
Sgt Stephen Lawman said the driver was uninjured but left "extremely shaken by what happened".
He added: "The fact the driver escaped without any injury is astonishing.
"Incidents of this nature are obviously extremely serious. They pose a real threat to the life of staff and passengers, cause thousands of pounds worth of damage and result in delays to services.
"I would urge anyone who has information regarding the identity of those responsible to get in contact with us."