Rape victim identified attacker from Facebook posting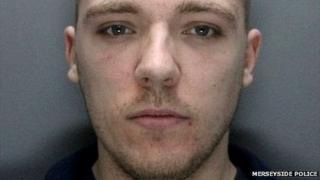 A rapist has been handed a life sentence after he was identified by one of his victims when she saw his picture on a Facebook posting.
Shaun Hopkins, 28, was already serving a life jail term for raping two women, aged 37 and 19, in Liverpool.
He has now appeared in court again after a third victim came forward.
She had initially remained silent about her ordeal, but approached the police after seeing Hopkins' face in a newspaper article posted on Facebook.
Police said Hopkins, of Fazakerley, Liverpool, used "extreme violence" against his victims during "brutal" attacks.
The latest woman to come forward was attacked by Hopkins in 2005 after meeting him in a bar.
Speaking to the BBC anonymously, she said: "I didn't want my family to know. I was embarrassed, I felt like it was my fault. I thought I wouldn't be believed.
"It's really hard what we're going through even now as a family."
'Horrible nightmares'
Describing the moment she saw Hopkins' picture on the internet, she said: "It made it all true for me and real again.
"I was trying to pretend it wasn't happening but I phoned the police the next day.
"It's very surreal. I wasn't sleeping, I wasn't eating. It was just uncontrollable crying.
"I was just in a horrible place. I can't describe it. I was having nightmares."
Following Hopkins' sentencing in April 2014, his previous victims gave police permission to use extracts from their statements to show other victims what they had been through.
The 37-year-old woman, who was also raped in 2005, said it had taken her "a long time to meet another man and trust him".
The 19-year-old said she "seriously thought I was going to die" after she was attacked in 2013.
Hopkins was told by a judge at Liverpool Crown Court that his second life sentence will run concurrently, and he will serve a minimum of 10 years.