Hillsborough inquests: 'Perfect storm' led to disaster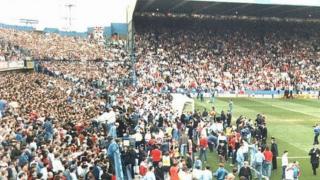 A "perfect storm" of events led to the Hillsborough disaster, the jury at the new inquests has been told.
Policing expert Douglas Hopkins said it was "unwise" to appoint Ch Supt David Duckenfield as police match commander weeks before tragedy.
But he agreed it was a "little bit unfair" to blame him for a "flawed" policing plan, because it repeated one made by his predecessor.
Ninety-six Liverpool fans died as a result of the crush.
Mr Hopkins said the previous match commander, Ch Supt Brian Mole, should have been in charge for the FA Cup semi-final between Liverpool and Nottingham Forest in April 1989.
He also told the court as the disaster unfolded, Asst Ch Con Walter Jackson, who was at the stadium in Sheffield, should have taken command.
"There was too much fragmentation over what people were doing," he said.
"It needed clear leadership."
Mr Hopkins, a retired police officer who attended more than 1,000 matches as a risk assessor for the England team, was being questioned by John Beggs QC, representing Mr Duckenfield and two other former senior officers.
The court heard the match-day plans made no reference to the use of filter cordons for fans outside the stadium and no reference to police monitoring the number of fans on the Leppings Lane terrace, where the fatal crush occurred.
There was also no reference to the "Freeman tactic" - whereby officers would close the tunnel to the central pens when they became full.
Earlier this week, Mr Duckenfield conceded his decision not to close the tunnel was the "direct cause" of the 96 deaths.
While Mr Hopkins agreed it was a "little bit unfair" to blame Mr Duckenfield, he later accepted a reasonable match commander would have known about those issues.
He agreed the appointment of Mr Duckenfield was unfair on supporters and the officers under his command.
It put him in an "invidious position," he said.
Mr Duckenfield's predecessor, Mr Mole, was "obviously a man who flew the operation by the seat of his pants, but to do that you've got to be able to fly," he added.
Mr Beggs asked Mr Hopkins: "Would you agree with me that... there were many factors at play which led to this tragedy?"
"Yes, sir," Mr Hopkins replied. "It was a little bit like a perfect storm, sir."
The hearings in Warrington, Cheshire, continue.
---
Who were the 96 victims?
BBC News: Profiles of all those who died
---