Man gets life sentence for murdering friend in dog row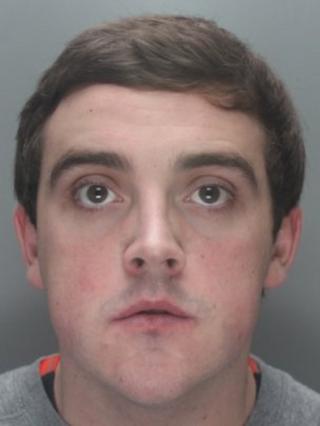 A man who killed his friend over a row about a dog in a "despicable and cowardly" hit-and-run attack has been jailed for life for his murder.
Michael Haigh, 26, deliberately used his 4x4 car to strike Ryan Kennedy in Gable View in the Norris Green area of Liverpool last November before fleeing.
Haigh, of Lower Hall Street, St Helens admitted manslaughter but denied murder. He was found guilty by a jury.
At Liverpool Crown Court he was ordered to serve a minimum of 17 years in jail.
'Cowardly and callous'
Police said the argument was about medical treatment required for Haigh's dog.
After Haigh's sentencing, Mr Kennedy's parents said: "We will never forgive Michael Haigh for taking our precious son Ryan away from us."
In a statement the family said "there was no win or lose as we lost everything on 1 November".
"We have lost our much-loved son, brother, partner and Ryan's two beautiful children have had their daddy taken away from them."
The family said throughout the trial Haigh "embellished the fact that he was a best friend of our son".
"We do not accept this and we saw Michael Haigh as an occasional friend of Ryan's and no more.
"Ryan did nothing wrong and did not deserve to die in the cowardly and callous way that he did."
Det Insp Graeme Robson of Merseyside Police said it was a "despicable and cowardly attack".
"There is no place in our communities for people who commit such violent and horrendous crimes."
He said he hoped the sentence would "bring home the enormity of what he has done" and the pain and heartache he has caused Mr Kennedy's family and friends.