Norton Priory Museum searching for mansion treasures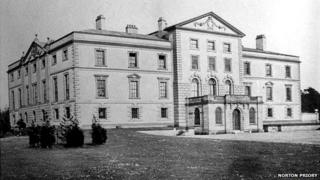 A museum has appealed for help in tracking down artefacts auctioned off from a Georgian mansion almost a century ago.
Norton Priory Museum and Gardens, in Cheshire, is searching for items that sold from the former home of the Brooke family in May 1921.
The mansion, in Norton, Runcorn, ran the auction after the family moved to a new home in Worcester in 1920.
Items included grand pianos, oak cabinets, china sets and tapestries.
The family had lived at Norton since 1545, but the 18th Century mansion was demolished in 1928 after the Brooke family relocated.
The site is now home to the museum, which is working on new galleries set to open in 2016, examining the history of the site, which was for many years home to a monastery.
Museum staff member Tom Hughes said: "An auction catalogue survives which lists the items on sale, but without much detail.
"We do know that the auction took place at the mansion over five days as there were so many contents to sell.
"The house had over 30 bedrooms plus another 15 fully furnished rooms amounting to 1,603 auction lots. Amongst the contents listed were tapestries, carpets, pianos, Chippendale furniture and 2,340 books.
"Perhaps there are people out there who can tell us more about the ceramic figures, dinner services or even kitchen or gardening equipment which their ancestors may have bought."