Aintree online video: No complaint after man knocked over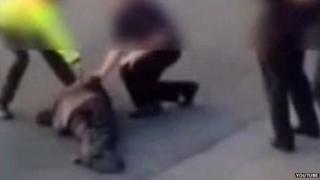 A man who was pictured online being knocked over by an Aintree racegoer has declined to make a complaint to police.
Officers said the 63-year-old man from Skelmersdale suffered bruising and sore ribs after a "man collided with him" on Ormskirk Road on Thursday evening.
A 34-year-old man from Formby voluntarily attended a police station and was interviewed under caution.
Police inquiries into the incident remain ongoing.
In the mobile phone footage, which was posted on YouTube but has since been removed, a man is heard sniggering from behind the camera before the man falls to the ground.
Onlookers are then seen rushing to help the victim before calling for an ambulance.
Merseyside Police said: "The 63-year-old has declined to make any allegation or report of assault in relation to this incident."