Hillsborough: Witness comes forward after inquests appeal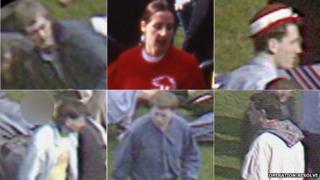 A Hillsborough witness, one of 18 who investigators said could provide new evidence for the inquests into the tragedy, has come forward.
An appeal was launched at the request of coroner Sir John Goldring and the victims' families.
Of 6,500 witnesses interviewed so far, investigators have been unable to trace those captured on camera despite "exhausting" all other avenues.
One man has now identified himself, they said.
Ninety-six Liverpool fans died after the 1989 crush at Sheffield.
The witness, who was on the pitch when the disaster unfolded, identified himself from a photograph.
An appeal for 17 more unidentified people to get in touch with Operation Resolve, the police team tasked with investigating Hillsborough and providing fresh evidence, remains active.
Two police officers, one steward and fifteen football fans, including at least one Nottingham Forest supporter, were thought to be among the unidentified witnesses.
Assistant Commissioner Jon Stoddart, who is leading the Operation Resolve investigation, said they all helped assist victims and could hold information which may "bridge some of the gaps for the last movements of their loved ones".
"Despite our best efforts we don't know who they are," he said.
Mr Stoddart said: "There are still many questions that the families of the 96 have and we believe that these people may be able to provide answers to some of those questions.
"Some of the deceased we know a significant amount about, others we know less and we are just trying to find out as much as we can about all 96."
He said it may be the last opportunity to trace the witnesses.
"No-one is getting any younger, and clearly the process is 26 years old now but we are optimistic... and will try to assist in anyway we can."
Mr Stoddart said he had a team who would deal with witnesses "sensitively".
He said it was unusual to carry out an appeal of this nature during an ongoing legal process, so it was "really important" people do not pass comment on the appeal or any other aspect of the Hillsborough disaster on social media and forums.
Those with information have been asked to contact Operation Resolve on 08000 283 284.
Mr Stoddart urged people to remember warnings issued by Coroner Sir John and the advisory notice issued by the Attorney General's office in March of last year.
He said it was possible that further images may be released in the coming weeks.
The match between Liverpool and Nottingham Forest at Sheffield Wednesday's stadium was abandoned at 3.06pm on 15 April 1989.
The fresh inquests being held in Warrington, Cheshire continue.