Hillsborough 'facts removed from police accounts'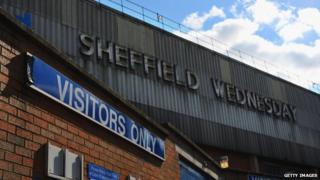 The senior police officer who led the inquiry into the Hillsborough disaster has agreed he could have launched a misconduct investigation into how officers' accounts were changed.
Mervyn Jones said vetting and amending statements "frustrated the search for truth" at the public inquiry.
He said he knew hearsay and opinion were removed from statements, but did not know facts were also taken out.
Ninety-six fans died after a terrace crush at the 1989 FA Cup semi-final.
The Liverpool fans had gone to watch their team play Nottingham Forest at Sheffield Wednesday's stadium on 15 April 1989.
'Clear and bright line'
Mr Jones, then an assistant chief constable with West Midlands Police, was asked to lead the investigation into the disaster and how it was policed by South Yorkshire officers.
He was also asked to support the public inquiry, commissioned by the government and chaired by Lord Justice Taylor in 1989.
The jury has heard how South Yorkshire Police (SYP) officers were asked to write "self-taken accounts" of their experiences at Hillsborough which were then sent to the force's lawyers for vetting.
The lawyers suggested changes be made, many of which were implemented by officers inside the force.
The jury has previously heard how facts, as well as comment and opinion, were sometimes removed.
Pete Weatherby QC, who represents a group of families who lost relatives in the disaster, said there was a "clear and bright line" between facts and comment.
Mr Weatherby said in some cases facts about police closing off a tunnel that led into the central pens at Hillsborough were taken out of the accounts.
The barrister asked: "So, the removal of factual evidence from these accounts could only have the affect of impeding the aims of [the Taylor public inquiry]?"
Mr Jones replied: "Certainly a full account was not being presented, if that was what was happening."
'Highly inappropriate'
Asked if the removal of facts "frustrated the search for the truth", Mr Jones added: "Certainly on paper form at the time."
The jury has previously heard from retired Deputy Chief Constable Peter Hayes and former Ch Supts Terry Wain and Don Denton, who were involved in the evidence-gathering process in SYP after the disaster.
Mr Jones said he now believes their roles were "highly inappropriate".
He told the jury he would have set up a separate inquiry into how the statements were being amended, had he known the extent of what going on in 1989.
Mr Weatherby asked: "A separate police inquiry into misconduct, perverting the course of justice?"
Mr Jones said: "Well, initially to gather evidence of what had gone on, rather than to confuse it with the situation I was dealing with, with regard to Lord Justice Taylor, but, yes, get to the facts, what you're saying, and I agree."
Mr Weatherby continued: "But it was an interference, wasn't it, what was going on - the removal of this important factual material?"
Mr Jones replied: "Well, one has to look at each example of what's gone on, but it could be construed as such, in some instances."
The retired senior officer, who later served as head of Cheshire Police, admitted he should have done more in 1989 to find out what the vetting and amendment process involved.
---
Who were the 96 victims?
BBC News: Profiles of all those who died
---
The jury also saw a letter Mr Jones wrote to the Treasury Solicitors running the inquiry on 9 June 1989.
In it he recalled how he had been on duty on horseback at the FA Cup semi-final played between Everton and Norwich City at Villa Park on the same day.
He wrote: "I had not previously experienced dealing with supporters in such great numbers who had consumed so much alcohol.
"Consequently the accounts that I have read on Liverpool supporters' behaviour at Hillsborough show some remarkable coincidences, which may indicate some Liverpool characteristic."
Rajiv Menon QC, another barrister who represents bereaved families, asked if Mr Jones' letter was "yet another example of the lack of independence and the lack of impartiality of the West Midlands Police".
Mr Jones replied: "It isn't an example of that, sir. I'm saying that I did a confidential report to a Treasury Solicitor... in good faith."
The inquests, in Warrington, Cheshire continue.