Hillsborough investigators seek further witnesses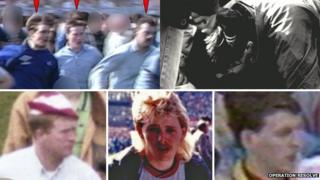 Further images of potential witnesses have been released by the police team tasked with investigating Hillsborough and providing fresh evidence.
The images are of people who assisted some of those who lost their lives on 15 April 1989.
Operation Resolve, the police investigation into the disaster, said two people have since come forward.
The appeal was launched at the request of coroner Sir John Goldring and the victims' families.
Last week, 18 images were released and 11 people have come forward.
Images of all those yet to be traced are shown on the Operation Resolve website.
Assistant Commissioner Jon Stoddart, who is leading the investigation, said: "The response to our appeal has been phenomenal and I am extremely grateful to the public for their support, especially those who have made contact with us to identify themselves, a relative or friend.
"We would urge the public to look at the latest images that we have released, because I think they may be able to identify them, too.
"It is important that we track these potential witnesses down as they could help answer some of the many questions that the families of the 96 still have."
Mr Stoddart reiterated a warning issued by the coroner and the advisory notice issued by the Attorney General's office in March of last year warning people to take care when commenting online while the inquests are active.
More images are expected to be released in the coming weeks.
Ninety-six Liverpool fans died after a terrace crush at the 1989 FA Cup semi-final between Liverpool and Nottingham Forest at Sheffield Wednesday's Hillsborough stadium.
The inquests being held in Warrington, Cheshire, continue.