Hillsborough inquests: Police lawyer 'made mistakes'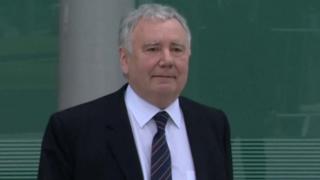 A lawyer who advised police about how to edit officers' statements about the Hillsborough disaster has admitted making "mistakes".
But Peter Metcalf denied attempting to pervert the course of justice in civil claims after the disaster.
Mr Metcalf said if he had thought more about the process of "vetting" the accounts, he may have felt "uneasy".
He told the jury at the new inquests that he thought he was acting in the interests of the "truth".
Ninety-six fans died after a terrace crush at the FA Cup semi-final between Liverpool and Nottingham Forest on 15 April 1989.
In the aftermath of the disaster, South Yorkshire Police officers were asked to write "self-taken" accounts of what they experienced that day.
They were told to include their "fears", "feelings" and "observations".
The court has heard how the accounts were initially going to be confidential and only seen inside South Yorkshire Police and its legal team.
But West Midlands Police, which was running the criminal investigation into the disaster, asked for these accounts so they could be submitted to the Taylor Inquiry.
Mr Metcalf said that request "turned everything that we had been doing upside down".
He advised the statements should be vetted before being sent away to remove comment, opinion and hearsay.
Jonathan Hough QC, asking questions on behalf of the coroner, asked: "Were you at all uneasy at this stage that you were signing your firm up to reviewing and potentially changing the accounts of officers for a major public inquiry?"
Mr Metcalf replied: "No. If I had thought more about it, I probably would have been uneasy, but I still don't know what else could have been done. I think we would have ended up in the same position."
South Yorkshire Police sent Mr Metcalf 416 statements for vetting between 10 May and 14 June, 1989. He read them and wrote letters back to the force suggesting changes.
---
Who were the 96 victims?
BBC News: Profiles of all those who died
---
Mr Metcalf told the court that in some cases he suggested removing facts he considered to be "irrelevant" and for inconsistencies between officers' accounts to be addressed.
Mr Hough continued: "Did it occur to you at any time that making those sort of amendments, to remove material because you thought it was irrelevant or to have officers put their heads together over inconsistencies, that that might be against the interests of a full and open public inquiry?"
Mr Metcalf replied: "That did not occur to me. It maybe should have done, but it didn't."
The coroner, Sir John Goldring, then asked: '"Do I correctly understand, Mr Metcalf, that in pursuing this exercise, you felt you were serving the interests primarily of the South Yorkshire Police?'
Mr Metcalf said: "I think I was serving the interests of truth - to make sure what was going out was factual.
"I certainly was not thinking 'how can we improve our position here - how can we do this?' - absolutely not."
Asked what he would say to the suggestion that the review and amendment process was "adopted in part because it allowed South Yorkshire Police to exercise some control over the evidence going to the Taylor Inquiry", Mr Metcalf said: "That would be completely wrong."
'Presenting evidence'
Mr Hough asked: "Do you think that there was anything about your approach to preparing and presenting evidence to the Taylor Inquiry that was not satisfactory?"
Mr Metcalf replied: "I deeply wish I had not been in that position in the first place.
"Secondly, yes, I have no doubt I have made mistakes."
Pete Weatherby QC, who represents a group of the bereaved Hillsborough families, accused Mr Metcalf of trying to "sanitise" the evidence so that it could not be used to criticise the police.
The jury also heard how Mr Metcalf advised South Yorkshire Police during civil claims after the disaster.
The inquests, sitting in Warrington. Cheshire, continue.