Helen Jones: Politician bitten by dog while campaigning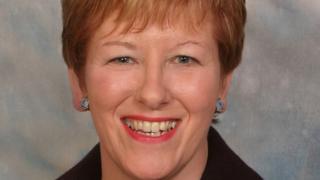 It's an occupational hazard endured for years by posties and paper boys, but now a politician has discovered the dangers of dogs while out canvassing.
Helen Jones, Labour's candidate for Warrington North, tweeted: "Classic election injury - bitten by a dog, currently in A&E."
BBC News understands Ms Jones, who had her fingers bitten, has had an X-ray and an anti-tetanus jab.
She won the seat in Cheshire by 6,771 votes at the 2010 general election.
"I'd like thank the fantastic staff at Warrington Hospital who are clearly under pressure at A&E but are resolutely cheerful and caring," she told BBC News.
She does not know the breed of dog which bit her.
The other candidates standing in the constituency on 7 May are Sarah Hayes (Green); Stefan Krizanac (Liberal Democrat); Trevor Nicholls (UKIP) and Richard Short (Conservative)