Man charged after dog bites six-year-old girl in Waterloo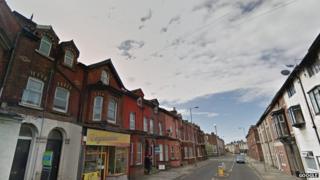 A man has been charged after a six-year-old girl was bitten by a dog, Merseyside Police said.
The girl is in a stable condition in hospital, after her face was bitten during the attack at a flat in Waterloo, on Tuesday.
Lee Jay Cluskey, of Mount Pleasant, Waterloo, is charged with allowing a dog to be dangerously out of control, causing injury.
The 19-year-old has also been charged with obstructing police.
He is due to appear at South Sefton Magistrates' Court on 20 May.
Police said they would take no further action against a 17-year-old woman from Crosby who was arrested in connection with the attack.
The dog, which was found in the bathroom of the flat, has been seized for examination, police added.