Love Activists protest: Fences put up around Liverpool bank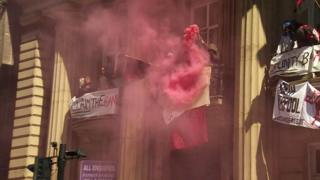 Bailiffs have erected fences around an old bank building in central Liverpool where occupying protesters threaten to lock themselves inside the vault.
Anti-capitalism group The Love Activists were served with eviction notices earlier this week at the former Bank of England site on Castle Street.
Five people were arrested after police imposed a 48-hour dispersal zone around the building on Thursday evening.
The anti-homelessness group has been occupying the building since 1 April.
The Love Activists have set up a helpdesk for people on benefits, a clothes bank and a library.