Gibraltar death: Inquest opens into John Shannon's death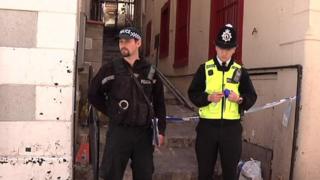 An inquest has opened after a man was found stabbed to death in a Gibraltar flat along with his partner and her two young daughters.
Liverpool-born John Joseph Shannon, 31, and six-week-old Eve Shannon Perez were found dead along with Anarda De La Caridad Perez Friman, 37, on 30 March.
The body of her four-year-old daughter Amanda was also found in the property.
Mr Shannon's inquest, held in Ruthin, Denbighshire, North Wales was adjourned until a later date.
A post-mortem examination found he died of a stab wound to the neck.
The four bodies were found at the property in the Boschetti's Steps area of Gibraltar.
The Royal Gibraltar Police has yet to make any official statement about what had happened but confirmed that its investigations were continuing.
The force said it was still awaiting the results of forensic tests.
Correction 21 May 2015: An earlier version of this story contained quotes attributed to the Coroner for North East Wales and Central, John Gittins. These were from syndicated copy bought by BBC News in good faith. These quotes have now been removed because we believe Mr Gittins was not quoted fully and accurately.