Hillsborough: Inquests hear victims' individual stories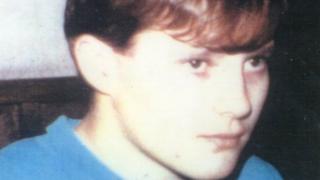 The Hillsborough inquests have entered a new phase, hearing the individual stories of what happened on the day to the 96 fans who died in the disaster.
The court has heard about 18-year-old Carl Lewis, from Liverpool.
The evidence aims to set out the narrative for each victim from the moment they arrived at the FA Cup semi-final on 15 April 1989.
It will detail their experience in the pens and what happened following the crush.
Mr Lewis, whose family wanted the inquests to refer to him as Carl, had travelled to Sheffield with his two brothers and friends.
The father-of-one only got a seat on the coach because someone dropped out.
'Horrendous surge'
He bought a ticket outside the ground and entered through the Leppings Lane turnstiles shortly after 14:30.
Carl was among a group who headed for the goal and went into central pen three, the jury heard.
In a statement, his friend Ian Fearns described "one horrendous surge" in the crowd at about 14:55 just before the players came on to the pitch.
He said: "I guess I moved about 10 yards, From there on in there was a great build up of pressure. It then became quite intense. I could see my left arm turning colour. It was going a purply blue colour and felt numb from the elbow down.
"I recall trying to look to my right and then saw Carl going even more forward than what I did. I was under this intense pressure for 20 to 25 minutes."
Giving evidence Derek Richards, who knew Carl, said he saw the teenager to his left in the middle of the pen, about five to 10 yards away from the perimeter fence of the pitch.
He said: "It was very, crushed, you could hardly move at all and you were just gasping for air all the time, you just couldn't breathe at all."
He glimpsed Carl's face for "about two seconds", he said.
"He seemed to be in discomfort but how bad discomfort I don't really know. It's just the look, like, that he just had. His face on the side view of it was 'I cannot move, I'm gasping for air'."
'Extremely distressing'
Video footage of Carl outside the ground, entering it and then being among spectators in pen three was shown to the jury.
Counsel to the inquest Christina Lambert QC warned the jury the next footage of Carl, timed at 15:21 was "extremely distressing".
It showed Carl, wearing a bright green long-sleeved shirt, lying on a pile of other bodies at the front of the pen.
Another witness, retired police sergeant Paul Gardener, told the court he came on to the pitch and provided CPR to a young man fitting Carl's description, with the help of an off-duty nurse.
Mr Gardener said: "I believe we stopped when the nurse probably mentioned that there was no point in going on any further."
At 15:37, Carl was carried from the pitch on a makeshift stretcher.
He was taken to the back of Sheffield Wednesday's South Stand and to the side of a service road where other bodies were located.
Mr Gardener agreed with Sean Horstead, representing Carl's family, that Carl appeared to be lying face down on the hoarding, with his feet appearing to be facing downward, when he was carried from the pitch.
---
Who were the 96 victims?
BBC News: Profiles of all those who died
---
Retired South Yorkshire Metropolitan Ambulance Service employee Phillip Boyce, told the jury when he saw Carl he formed the view that he was already dead and had been "for a while".
Mr Boyce said there was no sign of a pulse and he then performed CPR for up to four minutes. He said a doctor approached him and told him to stop as he had been "gone too long".
Peter Howes, a paramedic for Derbyshire Ambulance Service, arrived at the Leppings Lane end of the stadium at about 15.55.
He saw Carl positioned face down with his shirt pulled over his head.
Mr Howes said he immediately turned him over and inserted an airway when he found no signs of breathing and went on to give chest compressions but with no response.
A doctor then approached and told him: "He's young, let's give him a chance. Can we get this patient to hospital?"
Carl was then taken to Sheffield's Royal Hallamshire Hospital via ambulance as heart compressions and ventilation continued, with oxygen also administered.
Miss Lambert asked Mr Howes if, in his judgment, there were any signs of life throughout the time he was with Carl.
Mr Howes replied: "I'm afraid not."
The hearing continues on Tuesday.