Hillsborough inquests: Coroner sorry for payment delay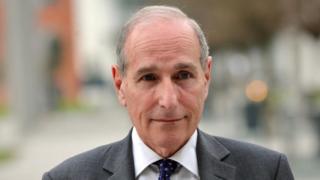 The coroner presiding over the Hillsborough inquests has apologised to jurors for the "indefensible" delay in their weekly loss of earnings payments.
The seven women and three men sitting at Warrington did not receive their reimbursement at the end of last week from the Ministry of Justice (MOJ).
It was understood to be as a result of "administrative change" at the government department.
The ministry has yet to respond to Sir John Goldring's comments.
'Importance of the jury'
He said "I just wanted to apologise for what happened regarding your loss of earnings payment.
"As you will know, we here had no idea until it happened."
He said it was "indefensible that this happened without warning".
The coroner said it was "no reflection upon our view on the importance, the fundamental importance, of your role".
"I know I speak for each of the interested parties when I say how much we appreciate what you are doing and the effect on your lives of sitting on the jury."
The jurors have since received the payment.
---
Who were the 96 victims?
BBC News: Profiles of all those who died
---
The new inquests which started on 31 March of last year were initially expected to last nine months but may now continue until early 2016.