Andrew O'Neill: Duped under-age sex groomer jailed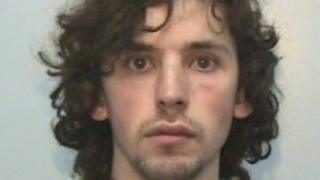 A man who was tricked into thinking he had arranged a sexual encounter with an under-age girl has been jailed.
When Andrew O'Neill, 25 and formerly of Skelmersdale in Lancashire, arrived in Wigan town centre on 19 April to "meet" 14-year-old "Alex" he was instead attacked and filmed by a group of men.
O'Neill admitted attempting to meet a girl under 16 and was sentenced at Liverpool Crown Court to 12 months.
A man arrested on suspicion of assault and blackmail was bailed last month.
The 25-year-old is due to answer to police bail in June.
An earlier hearing at Wigan Magistrates' Court heard O'Neill had booked a hotel room.
He lost two teeth after being attacked when confronted.
O'Neill managed to escape and report what happened to police, who arrested and charged him with attempting to meet a girl under 16 following grooming.