Pair detained for shaving girl's hair and eyebrows off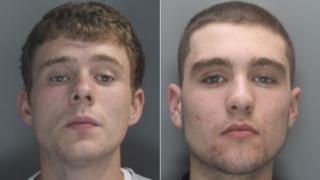 Two teenagers who shaved off a sleeping schoolgirl's eyebrows and hair at a house party have been detained.
The 16-year-old victim, who cannot be named due to her age, discovered long strands of her hair on the floor when she woke up.
Aiden Kendrick and Ryan Kelly, both 19 and from Newton-le-Willows, admitted causing actual bodily harm on 18 July.
They were sentenced at Liverpool Crown Court to spend 10 months in a young offenders' institute.
'No respect for others'
The court heard that the morning after the party at Kelly's home in Meyrick Court, the girl woke up to discover her head had been shaved at the front and side.
Big chunks of hair from all over her head had also been cut off with scissors.
Passing sentence, Judge Mark Brown said: "I have no doubt that the pair of you thought it was a big laugh to have done what you did to her, and that perhaps is the very best evidence of the sort of individuals that you are.
"People who had no respect for others, who do not care what their actions may have on others and are only interested in immediate gratification for themselves."
'Mean and nasty assault'
Anne McCracken from the Mersey-Cheshire Crown Prosecution Service said: "This was a mean and nasty assault on a 16-year-old girl that left her devastated.
"She has been traumatised by what these two men did to her. We were absolutely right to charge this case - the seriousness of what they did on that night is reflected in the comments made by Judge Mark Brown and the sentence that he has given them."
The judge said although Kelly started the assault by shaving off the girl's eyebrows it was a "joint venture" as Kendrick, of Harvey Avenue, then carried on.
The court heard the sixth former has been left devastated by the attack and her hopes of a career in medicine may have suffered because her grades have gone from As to Ds.
Her parents have spent £2,400 on remedial work since the attack, including hair weaving, the court heard.
The judge said he was unable to make a compensation order against the youths as "neither are in work and do not have a penny piece".
He imposed a five-year restraining order on them to keep away from their victim.