Posthouse roundabout: £6m roadworks hit by delays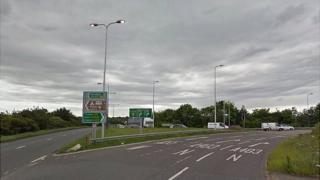 A £6m project to improve one of the busiest roads in Cheshire has been hit by another delay.
Work on the A55 junction with the A483 - known locally as "the Posthouse roundabout" - near Chester began last September and was supposed to have been finished within six months.
The completion date was then extended to late May, but now the project has been delayed for a second time due to poor weather.
The Highways Agency has apologised.
It says its doing all it can to finish the work as soon as possible.
A spokesman said: "We're really sorry for the inconvenience the Posthouse roundabout scheme is causing and for the delays drivers are currently facing when they travel through the junction.
"This is a complex scheme as it involves strengthening two bridges over the A55 so that the roundabout is suitable for four lanes of traffic, including HGVs, instead of the two lanes which are currently open.
"We are also installing new traffic lights which will use sensors to control the flow of vehicles through the junction."
The new completion date has been set for 29 June.