PC Dave Phillips to receive posthumous Wirral award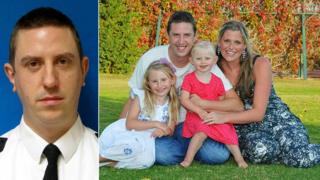 PC Dave Phillips is to be honoured with the Freedom of the Borough and The Wirral Award in posthumous recognition of his service, Wirral Council said.
PC Phillips was killed last year after being struck by a stolen pick-up truck.
Wallasey teenager Clayton Williams was found guilty of manslaughter on Monday.
Council leader Phil Davies said they are paying tribute to the "professionalism, judgement and kindness" of PC Phillips by awarding "the highest civic honour" they can.
'Highest honour'
PC Phillips was well known in the community and worked closely with the council to tackle crime and anti-social behaviour, a council spokesperson said.
"It is obvious from the comments in the books of condolence, PC Phillips touched many lives with his professionalism, judgement and kindness," Cllr Davies said.
"On behalf of the people of Wirral, we want to pay tribute to those qualities by awarding PC Phillips the highest civic honour we can."
His family received the award at a ceremony in Wallasey Town Hall on 20 May at a special meeting of Wirral Council.