Everton fan 'Speedo Mick' sets off for Wembley in trunks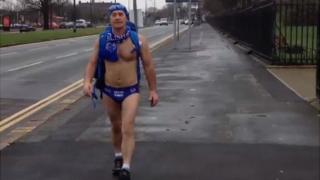 A football fan who became a terrace favourite by wearing only swimming trunks at matches has begun walking to Wembley for Everton's FA Cup semi-final.
Toffees supporter Michael Cullen, known as Speedo Mick, has become a regular fixture at home and away games.
The 50-year-old from Liverpool has set off from Goodison Park and will spend 11 days on the road.
He is raising money for the Woodlands Hospice.
Mr Cullen has already raised more than £30,000 for the charity after also swimming the English Channel.
He said he hoped to raise up to £50,000 in total and would be walking more than 200 miles "as the crow flies".
"I am crazy," he admitted. "I am going to be sleeping in hotels each night and carrying as little as possible".
Everton will face either Manchester United or West Ham in the 23 April clash.