Seaforth's Montgomery House tower block finally comes down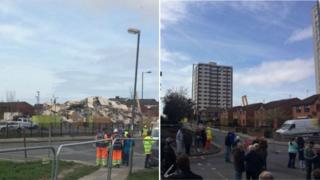 People living near a 15-storey tower block in Merseyside that has taken nine days to be demolished are to be allowed to return to their homes.
The two vacant high-rise buildings in Seaforth were due to be demolished simultaneously on 24 April.
But both remained standing after the controlled explosion before Churchill House collapsed soon afterwards.
A second attempt to bring down Montgomery House failed before it was decided to take it down in stages.
The demolition contractor, J. Bryan (Victoria) Ltd has now said the exclusion zone will be lifted because the structure has been reduced to a safe height.