Killed PC Dave Phillips receives freedom of Wirral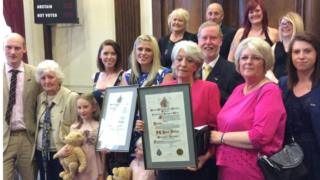 A policeman run over by a stolen pick-up truck during a pursuit has been posthumously honoured with the Freedom of the Borough and The Wirral Award.
PC Dave Phillips, 34, who was married with two young daughters, was killed last year when he was hit by Clayton Williams in a high-speed police chase.
His widow Jen and family were invited to attend a ceremony at Wallasey Town Hall at 18:00 BST on Friday.
Williams, 19, from Wallasey, was found guilty of manslaughter.
Council leader Phil Davies said of the policeman: "Wirral is proud to have him as a Freeman of this Borough."
PC Phillips's daughters, Abigail and Sophie, were at the ceremony along with his parents Robin and Carol.
Wirral mayor Pat Hackett said it was a "rare honour" and Mr Phillips had joined a list of 12 other individuals or organisations to have received the award in the 42 years since the borough was formed.