Council money saving firm lost Cheshire taxpayers £1.6m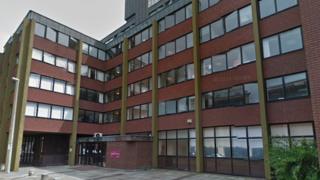 A company set up to save money for two of Cheshire's local authorities made a net loss of £1.6m.
CoSocius was wound-up in April by its owners Cheshire East Council and Cheshire West & Chester Council, after two years' trading.
Savings of £1m delivered to the councils by the IT and HR firm were outweighed by a final deficit of £2.6m, met by public budgets.
The councils said the company "was not the success we hoped it would be".
In a joint statement, the authorities said: "Unfortunately, the fast-evolving nature of the ICT market meant that CoSocius experienced higher than expected running costs and fewer opportunities to grow its business commercially beyond the services provided to both local authorities."
CoSocius was set up in April 2014 to "reduce the running costs" for the councils by making a profit from bidding for contracts with other public and private bodies.
The decision to close CoSocius was taken nineteen months later in 2015, with a "changing environment" being blamed.
Losses 'horrendously large'
More than 300 council staff who were transferred to the company were brought back in-house by April 2016.
The firm cut the councils' IT and HR bills by £1m, compared to when the services were run by the authorities themselves.
The £2.6m overall loss generated by the company was met from the councils' budgets over the last financial year, leading to a net loss of £1.6m.
Michael Jones, who was leader of Cheshire East Council when the firm was established, said the losses were "horrendously large" and blamed them on "the fact that we didn't get a third major partner on board."
---
How did the losses stack up?
By April 2015:
Savings delivered: £500,000
End of year deficit: £800,000
Net loss: £300,000
By April 2016:
Savings delivered: £1m
End of year deficit: £2.6m
Net loss: £1.6m
---
The losses have been shared equally between the two authorities.
A spokesman for both added: "Both councils have met their share of these costs from their 2015-16 budgets.
"Thanks to savings and efficiencies delivered elsewhere, the two authorities have still delivered an overall underspend against planned expenditure for the year.
"All costs associated with CoSocius have therefore been contained without further impact on the finances of either council or any new costs to the tax payer."
Plans for Wirral Council to become a partner in the project reached an advanced stage, but were shelved shortly before CoSocius started trading.