Tributes to scrambler bike rider Ben Phillips killed in Liverpool crash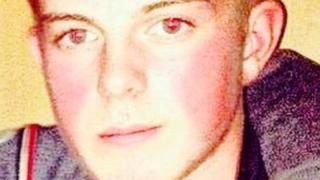 A scrambler bike rider killed in a crash in Liverpool was the most "generous son anyone could ask for", according to his mother.
Ben Phillips, 17, died in hospital after a collision with a car at the junction of Belle Vale Road and Lee Vale Road, on Thursday.
His mother Andrea Phillips said "loved to go fishing but motorbikes were his passion from such an early age."
Merseyside Police said he had no helmet on or protective clothing.
Ms Phillips said Ben "could only be described as the most loving, caring, generous son anyone could ask for.
"He had the most impeccable manners and respect for anyone he met."
She added: "Ben spent a lot a time with his girlfriend of five years, Toni. He also had a great set of friends who loved him dearly. He touched so many people's lives in his short life."