Cheshire lotto syndicate shares £1m prize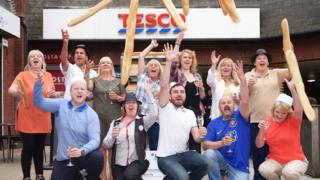 A syndicate of supermarket bakery workers have won £1m on the lottery.
The group of 12 colleagues from Tesco in Chester will each receive £83,333.33 from the 7 May Lotto raffle draw.
They only discovered they had won a month after the draw was made - when syndicate leader Cath Batten went out to buy another ticket.
Ms Batten said: "The machine made a funny noise and the shop assistant said to me you need to call Camelot, you must have won more than £500."
She added: "This amount of money is just life changing for all of us.
"Telling my friends and colleagues we had won £1m was almost as special as winning the money."
The syndicate, which has been running for six years, plan to continue playing despite their success.
"It still doesn't seem real for any of us," Ms Batten said.
"We are all still trying to take it in and thinking about how we will spend our new-found fortune.
"We just feel that if ordinary people like us can win, there is no reason we cannot win again."