Southport MP wants hospital executives suspension investigation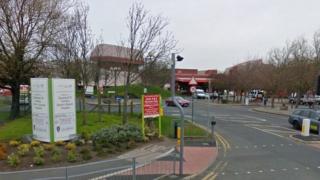 An MP has asked Health Secretary Jeremy Hunt to investigate why four senior executives have been suspended on full pay for a year by their NHS trust.
Southport and Ormskirk Hospital chief executive Jonathan Parry and three others have received £400,000 while suspended over whistleblowing claims.
Southport MP John Pugh said the situation was "beyond the control and management of the Trust itself".
The Trust said its investigation was "drawing to a conclusion".
Mr Pugh said he has written to Mr Hunt because "people don't want to see money squandered on matters that are not to do with the public's health".
He added: "If no-one steps in I'm very doubtful of the Trust's competence or ability in sorting it all out in anything like a timely fashion."
'Appropriate next steps'
Sue Musson, chair of the Southport and Ormskirk NHS Trust said: "The exclusions followed an independent, external investigation into three separate whistle-blowing complaints received by the trust.
"Once the investigators have reported, the trust will review the appropriate next steps."
She added: "No aspect of the whistle-blowing complaints or investigation relates to issues of patient care or safety."
Chief operating officer Sheilah Finnegan, human resources chief Sharon Partington and deputy director of performance Richard McCarthy were also suspended in August 2015.
The nature of the allegations has not been revealed.