Man and horses found dead in Formby stable fire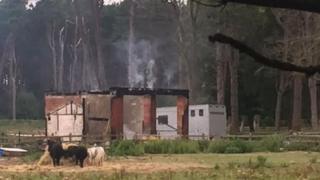 A man's body has been found by firefighters tackling a blaze that killed a number of horses.
The fire at Shorrocks Hill Country Club in Lifeboat Road, Formby, was discovered at about 05:40 BST.
A joint investigation with Merseyside Fire and Rescue Service is under way into the cause of the blaze, Merseyside Police said.
The dead man is believed to be Andrew Coogan, although formal identification has yet to take place.
Firefighters said he was found with the horses in a stable which destroyed in the blaze.