Chester to explore Roman attraction idea as part of city-centre plan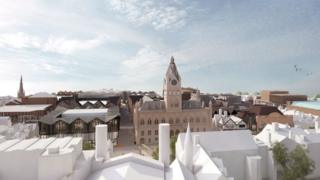 A new historic attraction, likely to focus on Chester's Roman history, will be built in the city.
Cheshire West and Chester Council is soon expected to approve wider plans to overhaul part of the city centre, and this could feature a Roman attraction.
Councillors are holding a review to determine the size and location of any planned historical attraction.
A cinema, shopping streets, restaurants, market hall and hotel are also included in the development plan.
A council report recommends the development, dubbed the Northgate Project, is approved at a planning meeting next week because of its "scale and strategic importance".
Development consultant David Lewis said: "Chester is a very historical city, it's got its Roman heritage, and indeed this site was very significant in this Roman heritage.
"We've all recognised, and research has shown us, that there is an opportunity and a lack of modern cultural facility that portrays the Roman history."
Officials have defended the council's commitment to the city's heritage after thousands of people signed an online petition calling for the Roman amphitheatre to be fully excavated.
The Northgate Project site covers the original location of a First Century Roman legionary fortress. The remains of a strong room used to store valuables survives, but other remains were destroyed by building foundations in the 1960s.
Officials say an attraction may make use of the area's underground remains.
Construction manager Clare Huber said the area due to be redeveloped is "a key site of archaeological significance" but added plans for a historic attraction are in the "very early stages".
"If a commercial attraction was the right fit then that's fine, but the council has been responsible for promoting the heritage of the city in its museums historically. Going forward I can't see that changing."
Construction of the first phase of the Northgate Project is due to be completed in early 2018, with the entire site completed in late 2019.